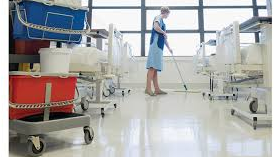 Hospital carpet cleaning is one of the most challenging tasks for the cleaning workers because it is important to ensure continuous cleaning of the carpet but there can be different kinds of restrictions that may impact their work. Hospital carpets are also used regularly because hospitals are usually open throughout the day resulting in the overuse of the carpets. Therefore, dost, dirt, and different kinds of germs are present on the carpet surface, which may not only affect the cleanliness of the culprit but also cause other types of hazards for the peoples in the hospital. In addition, these germs may also stick with people's shoes and transfer to other places resulting in health issues. These concerns are particularly more important during the coronavirus pandemic situation where hospitals have been overwhelmed with coronavirus patients resulting in significant overuse of the carpets.
In this article, we have provided recommendations for hospital carpet cleaning that cleaning workers at hospitals can follow for effective cleaning. 
Professional extraction cleaning
There are professional extraction cleaning techniques for hospital carpet cleaning that can be valuable in removing different kinds of germs and toxic materials present on the carpet surface. These techniques involve the use of professional disinfectants, cleaning materials, sanitizers, and so on that are used in a manner that provides effective cleaning solutions in the hospital environment. However, there are limitations to using these techniques in the hospital environment considering that they can be hazardous for the patients. Therefore, suitable time should be selected for performing this type of cleaning solution so that they do not have negative consequences for the patients as well as the hospital environment.
Thorough vacuum cleaning of the carpets
The most common and important aspect of hospital carpet cleaning is performing thorough and regular vacuum cleaning with the help of a high-grade vacuum cleaner capable of removing small and minute particles from the carpet surface. Cleaning workers should carry out vacuum cleaning on a regular basis after every few hours so that the impact of overuse of the carpet can be reduced.
In the case there is garbage present on the surface of the carpet then it should be removed with the help of a brush or broom so that it does not have a negative impact on carpet cleanliness.
Spot cleaning and removing stains
Stains of different types on the carpet are common in the hospital environment due to which spot cleaning is an important part of the hospital carpet cleaning. Cleaning workers need to take prompt action when they find a spot on the carpet surface because it can become permanent in a short period. There are different types of cleaning solutions available that can remove spots from the hospital carpets quickly and ensure effective cleaning.
In order to remove spots, we also recommend steam cleaning because it can provide effective results in removing the stains of different types from the carpet surface. There are steam cleaners available in the market, which should be present in the hospital so that they can be regularly used whenever necessary. Also know more about carpet cleaning services prices why they are better than machines here .